Chipotle Catering Menu with Prices
Chipotle is currently one the fastest growing fast casual restaurants in the world. Chipotle serves fresh great tasting food made with quality ingredients and when it comes to catering, Chipotle Catering Menu consists of everything you would normally find in their restaurant. No matter what type of event you are hosting Chipotle catering has something for you. They offer burritos by the box for those events that have limited amount of space. Burritos by the Box are priced reasonably at $8.75/person. If you are looking for something more formal, you can opt for a Chipotle Spread where your guests will have the option to create their own tacos and burritos just the way they like them.
Below you will find a full Chipotle Catering Menu with Prices
Chipotle Catering Menu

Two Meat Spread
$12/person
The Big Spread (Three meats + Fajita Veggies)
$13.50/person
Veggie Spread
$12/person
Burritos by the box
$8.75/person
Chips and Salsa
Big (Serves 10-15)
Bigger (Serves 15-20)
Big $40
Bigger $55
Three different spreads to choose from!
1) Two Meat Spread – Choose Two Meats from (Chicken, Steak, Carnitas, Barbacoa). Sofritas available in select locations.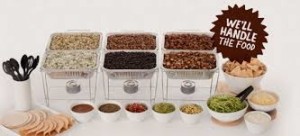 2) The Big Spread-Choose Three Meats from (Chicken, Steak, Carnitas, Barbacoa). Sofritas available in select locations.
3) Veggie Spread – Sofritas and Fajita Veggies, or Extra Guac and Fajita Veggies
Chipotle has exploded in popularity since it's inception. It's now a household name in most cities in America due to their offering of reasonably priced, delicious Mexican inspired options that are made right before your eyes to order. You know you love it – so why not have it at your next event?
HOW TO ORDER CHIPOTLE CATERING
Currently Chipotle Catering can only be ordered by calling 1800 CHIPOTLE (1800-244-7685) or by visiting your local Chipotle Restaurant. Unfortunately, Chipotle Catering cannot be ordered online right now, but they are currently working on a mobile app that will let you order catering through them. As soon as the app is available, we will post an update to this page. Click HERE to order Chipotle Catering today!